Torsten Koehler
| Testicular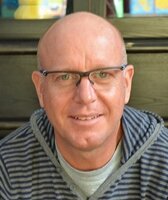 I'm alive! And definitely kicked cancer in the butt! Check your nuts and don't die of embarrassment!
Love your Nuts!
YES, my one nut is fake, because the real one tried to kill me!
I had testicular cancer in 1995 at the age of 30.
That evening when the doctor came and said it is aggressive cancer … that they have to remove my right testis the next morning was the moment my life shattered into million pieces. Signing a form that says: removal of right testis … was a nightmare!
I've been through the whole program – my health and emotions on a roller coaster: surgery, chemotherapy, self-destructing thoughts, depressions and turning into a miserable person. Slowly losing my energy and couldn't really cope with my work, colleagues and friends anymore.
I made a bucket list when I was waiting for my results after the surgery because it felt like time is running out. I wrote down place I loved to see before I die. The fear that cancer returns was constantly on my mind. I gave up all my secure living. Resigned as teacher, sold my car and backpacked the world for two years to come to rest with the cancer.
A long journey – around  the world and back to myself.  I undertook an intensive, spiritual examination of the eternal question concerning Life and Death.  During these 2 years I travelled to all the destinations that I had put on my bucket list (Helicopter ride over Manhattan, active volcano in Hawaii, Golden Gate Bridge San Francisco, Macchu Picchu and the Lines of Nazca in Peru, Great Barrier Reef in Australia, Milford Sound in New Zealand, Glaciers in southern Argentina/Chile, ….) when I wasn't sure if I will survive the cancer. Travelling to all the places on my bucket list was the best thing I've ever done. Give wings to your desire! Have dreams and aims in life and fulfil them! My zest for life returned. I returned to Namibia and started teaching again. Today I'm a happy chappy!
Testicular cancer touched my life.
Today I'm not teaching anymore but do what I love to do: photography and design – I turned my hobby into my job. Actually I don't work anymore because a hobby is fun and it doesn't feel like work!
I left Namibia to live in the most beautiful city in the world – Cape Town!  Surrounding me with a beautiful environment nourishes my soul!
Being a couch potato for 20 years … I started running 2008. Lost 13kg. Four years later I finishing the Comrades Ultra Marathon (called the "ultimate human race") of 89km. Feeling healthy and being fit added to my self-confidence that posing naked – okay covered with nuts – for testicular cancer awareness is not a problem. Visit my website www.love-your-nuts.com  and see my book cover.
When I was still a biology teacher I always used one of the lessons every year to talk balls and make the boys aware. A few years later a former student of mine invited me for coffee … just to say thank you that I made them aware. He went to the doctor in time and was saved at the age of 16! Just that makes it worth standing up for cancer and talk balls!
Give wings to your desire!
My aim is to make men aware of this young man's cancer and I like to encourage cancer patients not to give up! Not only cancer patients! I like to encourage every person to give wings to their desire! Don't give up on anything that you like to achieve or dream about!
I'm alive! And definitely kicked cancer in the butt! Check your nuts and don't die of embarrassment!
Torsten Koehler
Testicular Cancer Survivor
Proud Cancer Buddy
Author of the book "Love your Nuts – Testicular Cancer touched my life"